Devan info, products & news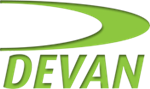 Focusing primarily on the agricultural, rural lifestylers and domestic market sectors since conception, Devan has grown into a specialist operation that is dedicated to its customers. Devan's core business is the manufacture of water tanks, ranging from 600 - 30,000 litres used for agricultural, domestic and commercial purposes including the storage of molasses and chemicals. More recently Devan have updated their range of septic tanks and wastewater treatment systems with a new design. Devan's septic tanks are watertight, strong, lightweight and easy to install. Devan also manufacture and market an environmentally friendly multichambered household Wastewater Treatment System. This system treats household wastewater to a level to that produces effluent which is a clean, clear and odourless liquid suitable for irrigation of landscaped areas.
Please get in touch with Devan from the Contact box on the right.
Devan Location

Devan Water Tanks is a Rainwater Harvesting and Water Saving Devices company, strives to manufacture the best Green Handi Water Tanks, with 200,000 wonderful tanks ... more »
Water Saving Devices –
Water –
Rainwater Harvesting