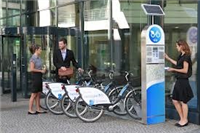 Product by:
Nextbike NZ Ltd


Sustainable Nextbike would like to make bikes more accessible for New Zealander.
Bikes are environmental- friendly, clean, fast and enjoyable way of covering up to 6km.
Public bikes have been around since the 70's and are very popular in many European cities, where they are an establishe Alternative to public transport.
These bikes will in time be part of the typical public transport available throughout New Zealand. Until then they make bikes available in a number of ways.
• Visitor bikes at Cafes, Hotels and Tourism Operators throughout central Auckland.
• Staff bikes at companies that are dedicated to helping their staff help the planet.
• Event bikes for promotional, activation campaigns, sampling, sponsored transport and conferences.
They also offer:
Public bikes for cities that want to provide flexible and zero emission public transport. They continue to work with Auckland Council on this.

Sustainable Nextbike New Zealand Ltd is very pleased to be using technology and bikes from leading provider of public utility bikes.
Please use the Contact form on the right for Sustainable Nextbike information and ordering.