Nap-Naps All in One Organic Nappies Product details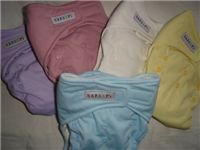 Product by:
Nap-Naps


Nap-Naps All in One Organic Nappies comprises of a waterproof, breathable PUL outer layer and with soft Cotton flannelette inner with an absorbent sewn in liner attached.
It has adjustable snaps and velcro tabs ensure a perfect fit up to 20kg (approx).
Use this product in conjunction with either their washable or disposable Liners, and for more absorbency, their washable Boosters.

Nap-Naps latest Nap-Naps 'All in One' is now the ultimate in Cloth Nappies and this is New Zealand made ensuring the quality you can trust.

This pack includes:

• 5 Nap-Nap All in Ones
• 10 Washable
• 5 Washable Boosters
Please use the Contact form on the right for Nap-Naps All in One Organic Nappies information and ordering.