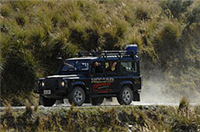 Product by:
Nomad Safaris


Green Nomad Safaris has a powerful commitment to the Environment and takes active steps to minimise the impact of their operations on both the local and global environment.
The commitment to the environment at Green Nomad Safaris has been recognised by being Green Globe Certified and recently winning the Sustainable Business Network Trailblazer Award 2008.

Each member of staff is trained in eco-friendly driving techniques that minimise fuel consumption and minimise the effect of the vehicles that have on the local environment.
All members of staff are made aware of Energy conservation, waste minimisation, sustainability, and environmental emergency reaction procedures as well.

They also undertake a range of environmental projects and actively encourage members of the public to participate.
Contact today, for information on the next environmental day.

Please use the Contact form on the right for Green Nomad Safaris information and ordering.