Green Energy Auditing Product details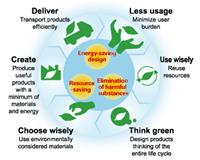 Product by:
eCubed Building Workshop


ECubed Building Workshop aim at providing a thoughtful and customized approach to Eco Design and still maintaining a high standard of environmental awareness.
We provide a wide range of services in the field of Green Energy Auditing, Sustainable Building Design, and renewable energy Evaluation and Research.
Green Energy Auditing is to investigate how to use energy more efficient, then measure and highlight opportunities for associated energy bill savings.
Please use the Contact form on the right for Green Energy Auditing information and ordering.