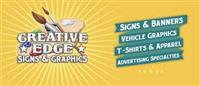 Product by:
Creativedge


Creative Edge is a hard working Green and Eco Design team, our staffs are creative, professional and qualified that ensure to meet all your needs in any situation.
We run a range of Designs Services, in terms of Eco Designed Websites, Graphic Design, artwork, publishing, signage, Packaging design, Branding and Marketing, and CD presentations.
Green Creative Graphic Design aims at presenting a booklet or brochure with abundant information and attractive sightseeing photos to make people fascinate our objective.
Please use the Contact form on the right for Green Creative Graphic Design information and ordering.