EcoSMART Pesticides Product details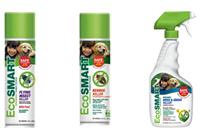 Product by:
E Products NZ Ltd.


E Products Company was established in 2001; our aim is to develop a highly energetic company offering unique, convenience Green Pest Control, Eco Friendly Pest Control and Eco Plant Pest Control products.
EcoSMART Pesticides the safest producer of organic pesticides; all products are made from patented blends of essential plant oils, and have been tested at research laboratories.
Our technology kills pest faster and is based on natural defense that plants use to protect themselves from insects and disease.
EcoSMART Pesticides ' proprietary formulas are very effective but completely safe for people and environment.
Please use the Contact form on the right for EcoSMART Pesticides information and ordering.