Eco Ultimate Building System Project Product details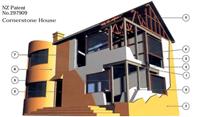 Product by:
Cornerstone Central South Island Ltd


Cornerstone is a Green and Eco Building system; we are focusing on innovation approach of building residential, commercial and industrial buildings.
Our increasingly development of Green and Environmentally Friendly Design is rather than traditional methods of building construction.
Our Eco Ultimate Building System Project is made of 90% Eco Construction Material polystyrene, combined with reinforced concrete transforming to an "all-conquering "system, provides more stable and firm framework for the construction.
Please use the Contact form on the right for Eco Ultimate Building System Project information and ordering.