Eco Architectural Design Product details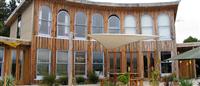 Product by:
Eco Workshop Ltd


Eco Workshop has over 20 years of experience in the field of Green and Eco Design and Eco Construction house and we are specialising in Eco Friendly Solar Passive Designs.
Our service embraces architecture through ecologically Sustainable Design and spatial arrangement, as well as a wide range of from new buildings to sensitive intervention with older structures.

Eco Architectural Design aims at designing an environmentally friendly and sustainable architecture from the view of ecologically sound.
Please use the Contact form on the right for Eco Architectural Design information and ordering.