the Pod nz info, products & news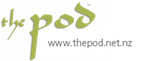 we are the sole Nz manufacturers of the european camping/tramping and glamping! sensation.
The Pod is built sustainably, using nz timber, nz sheepswool insulation, locally made double-glazed windows and doors, and the nz icon gerard roof tiles.
The Pod slots seamlessly into any environment, be it bush,rural or urban, as our finishes and specs are adapltable to each location.
The standard Pod can sleep two adults and two children, and comes pre-wired with lights and hotpoints for convenience.
Please visit our website, or our sister site www.thepod.info, for further information, or call/mail me to discuss your requirements.
the pod is registered under nz design no. 415514, beware of imitations.
Please get in touch with the Pod nz from the Contact box on the right.
the Pod nz Location
the Pod nz Products
listed